Bitcoin operates on its own independent monetary network. So Bitcoin withdrawals will not return funds to your bank account. Instead, it will send it from our platform to your own Bitcoin wallet. First acquire a Bitcoin wallet. If you need suggestions for your first wallet, read here.
To withdraw from Swan to your Bitcoin wallet, you must first set up two-factor authentication for your account. Please go here to do so.
Manual withdrawals
Once you have two-factor authentication set up, you can manually withdraw Bitcoin to your own wallet anytime. To create a withdrawal go to your Swan dashboard and scroll down to the withdrawal section. Click the "Withdraw Now" at which point you'll see this popup.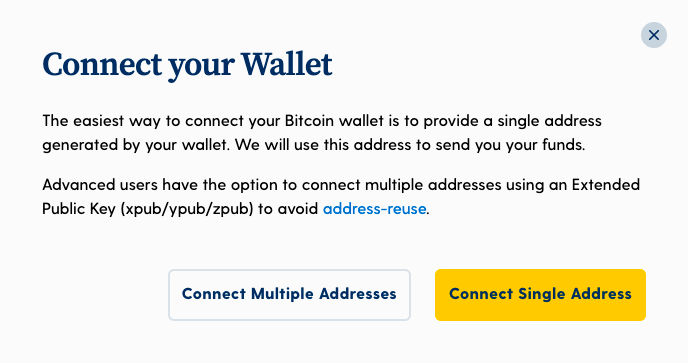 Select "Connect Single Address" unless you are an advanced user. Then you'll see this page where you can enter your wallet information. That wallet address should be given by your own Bitcoin wallet when you press a button that says something like "Receive Bitcoin" or "Deposit Bitcoin."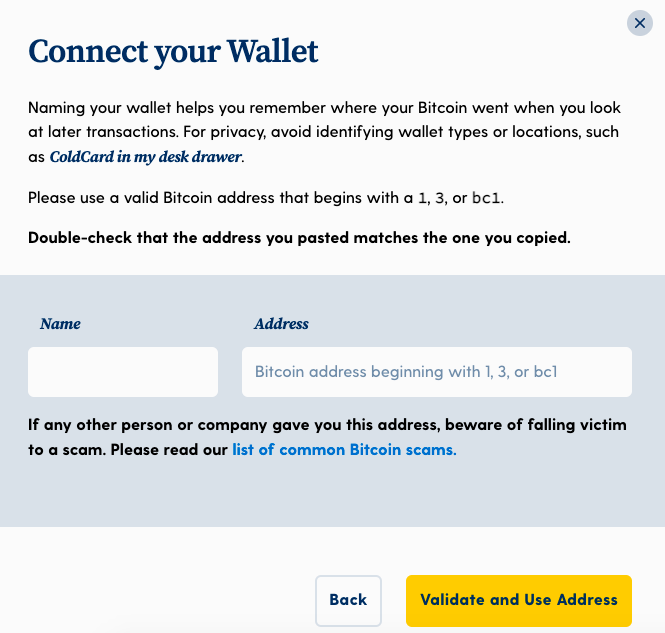 Once you have added that wallet address to Swan's interface, you'll need to confirm it via the 6-digit code generated by your authenticator app on your phone.
Finally, you can go back to the home screen and initiate a new withdrawal. You can select the amount of Bitcoin to withdraw as well as the address that you previously saved.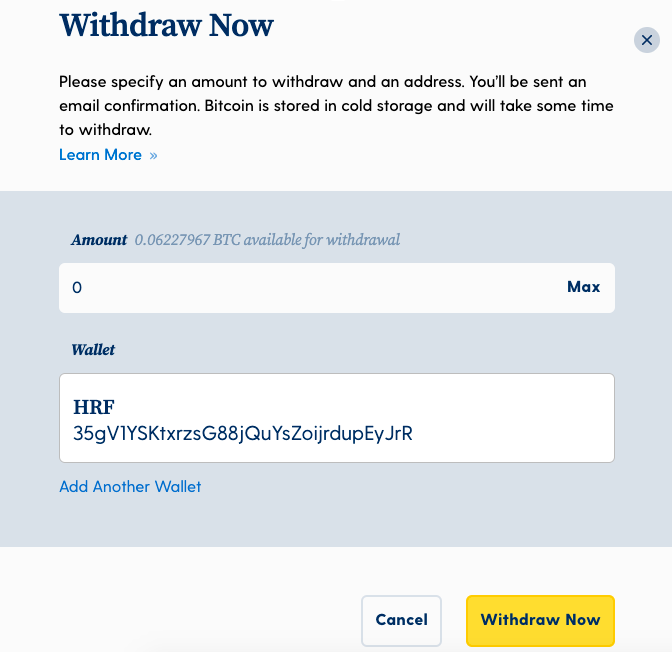 Auto withdrawals
To create an autowithdrawal, go to your Swan dashboard and scroll down to the withdrawal section. Scroll down past your transaction list and you'll find the auto-withdrawal setup.
You can choose how often to withdraw your Bitcoin - every purchase or at accumulation intervals of 0.01, 0.025 or 0.05 Bitcoin. Click here to learn why withdrawing at set amounts like this is a good idea.
You will then set a wallet address to which we will send your Bitcoin.
What to expect after you request your withdrawal
After you create a withdrawal on Swan, you will get a confirmation email from Prime Trust directly. This email can show up quickly, or sometimes can take a few hours. This ensures that Swan can never move your Bitcoin without your permission. The email will contain a link to Prime Trust's website at primetrust.com, where you will confirm the withdrawal. You have 24 hours to confirm your withdrawal. If the withdrawal lapses, you can trigger another withdrawal from your dashboard by selecting the "Resend Verification" button in Swan's withdrawal history section. Once the withdrawal is confirmed, allow a few minutes for the withdrawal to show on the Bitcoin blockchain.