Swan Bitcoin has different Bitcoin locking periods for different types of purchases. The purpose of this temporary lock is to protect against fraudulent activity, which in turn, helps us to keep our costs low for our users:
| | |
| --- | --- |
| Bitcoin Purchase Method | Locking Period |
| Wires, Direct Deposit, BTC Deposits, & Referral BTC | 24 Hours |
| Instant ACH < $2,500 | 10 days for most customers; 5 days for long-standing customers. |
| Instant ACH ≥ $2,500 | 30 days for most customers; 10 days for long-standing customers. |
| Recurring ACH < $2,500/mo | 10 days |
| Recurring ACH ≥ $2,500/mo | 30 days |
| Gifts | 30 days |
During the time that your coins are unavailable for withdrawal, your Bitcoin is held in custody by our licensed and regulated custodian. Also know that during this locking period, your Bitcoin is already purchased and its value will rise or fall with the Bitcoin price, so you will not miss out on potential gains in value.
To learn when exactly a specific purchase unlocks, you can navigate to our web app (Swanbitcoin.com), and scroll down on your home page to the purchasing history section of your dashboard. Then simply scroll over the individual locked icon on the left side of the screen, as shown below, and a pop-up will reveal when that particular purchase unlocks.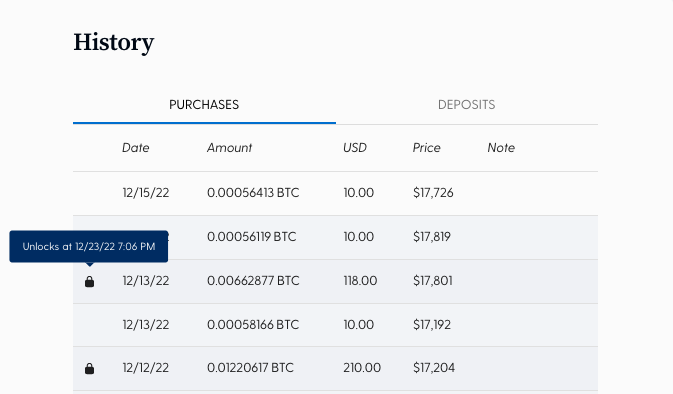 ACH Reversals
ACH withdrawals from your bank account have a long dispute window. That means someone could fund their Swan account, withdraw their Bitcoin, and then tell their bank that the charge was fraudulent, leaving Swan to foot the bill.
In order to offer you the lowest fees possible for automated ACH purchases, and to ensure that Swan itself is not at risk of insolvency due to fraud, our fraud locks for ACH purchases are longer than for non-ACH purchases.
While we recognize that other services may offer quicker Bitcoin withdrawals after ACH deposits, it's important to note that these services take on tremendous risk by doing so, and the cost associated with that risk is passed along to customers through higher fees.