Did you confirm your withdrawal?
When you go to withdraw from Swan, you will get a confirmation email from our custodian directly.
Your first withdrawal confirmation email may take up to 24 hours to be sent since it requires manual approval to move funds out of a multi-party controlled wallet. All future withdrawal emails will arrive within a few minutes.
Why do I need to confirm via email?
This email ensures that Swan can never move your Bitcoin without your permission.
How does the confirmation work?
1. The email will contain a link to our custodian's website, where you will confirm the withdrawal.
2. You have 24 hours to confirm your withdrawal.
3. If the withdrawal lapses, you will have to trigger another withdrawal to confirm.
4. If you fail to confirm your withdrawal within 10 days it will be canceled.
5. To resend the confirmation email please scroll down in your dashboard to the withdrawal history section and click "resend confirmation email".
How can I know the status of my withdrawal?
In the web Dashboard, scroll down to Pending Withdrawals.

You can hover over the circle to see more detail about which step in the process your withdrawal is in.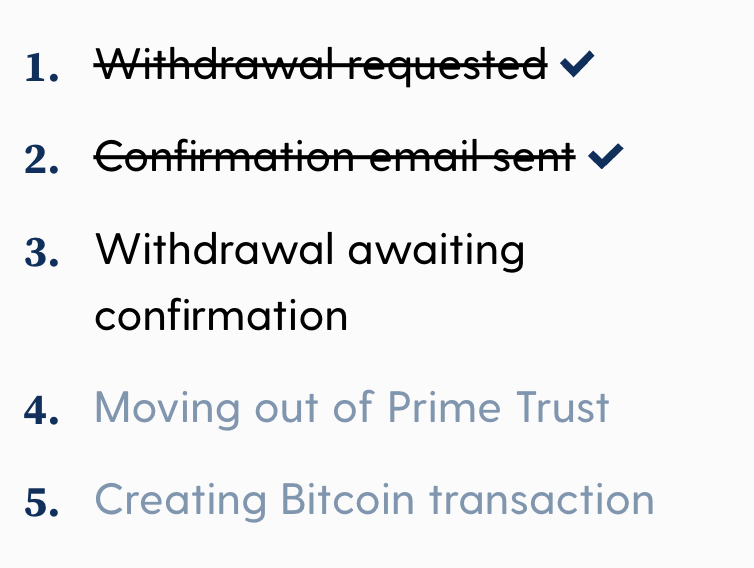 If you do not see a Bitcoin transaction and a link to the Bitcoin on the blockchain, but you have already confirmed it, that means the withdrawal is pending at our custodian and will be processed during the next business day.
If you want to see your Bitcoin withdrawal on the Bitcoin blockchain, you can search for it using a blockchain explorer. Our favorite is mempool.space.