Overview
While we place daily limits on the amount purchased via Instant Buys, wire transfers can be used to buy up to $10 million worth of Bitcoin. The instructions for sending in a wire transfer can be found by clicking the "Deposit by Wire Transfer" button shown under the "My Deposits" Section of your dashboard.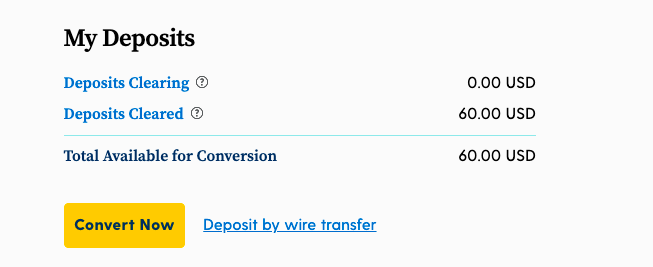 Please take note that there are different sending instructions for US bank accounts and International bank accounts. US banks accounts should wire to Cross River Bank. International Bank accounts should wire to Royal Business bank.
Wire Settlement
Settlement times vary according to where the wire was sent from. You will receive an automated email from Swan as soon as your wire clears.
US Bank Accounts:
The wire will typically settle into your account within 1 business hour
Wires sent with an incorrect name or account number will be rejected and returned to your bank
Non-US Bank Accounts:
The wire will typically settle between 1-3 business days after it is sent by your bank.
Please note that Swan can only receive US Dollars (USD). Work with your bank to convert your local currency to USD prior to sending.
Wires sent with an incorrect Q Code will be manually reviewed and booked within 2-3 business days
Sender / Recipient Name Match
The name on the bank account you are sending from must match the name on the Swan account you are depositing into. If there is a mismatch, you may be required to provide additional documentation in order to utilize the funds to purchase Bitcoin.
Note: This policy is only for true name mismatches. Your wire will settle automatically as normal if your name has a partial mismatch, such as a nickname "Katie" versus "Katherine" or a middle name not appearing.
Purchasing Bitcoin
Once your wire has cleared into your Swan account, your dollars will be available to convert into Bitcoin immediately. You can do this by clicking the "Convert Now" button under "My Deposits". If you wish to purchase more than $100,000, know that our system will require you to buy at most $100,000 at a time. You can purchase several $100,000 purchases right after each other.
If you are placing a buy larger than $400,000, please contact us at Swanbitcoin.com/support so that we can execute this buy for you from the backend if you desire.
Withdrawing Bitcoin
Bitcoin purchased via wire is unlocked for withdrawal within 24 hours of the purchase. For rare users that have a history of ACH reversals, we may continue to lock up all purchases (wires included) for 10 or 30 days to protect us from potential fraud.
Additional Notes
Always refer to the wire instructions listed on your dashboard. These instructions may change from time to time. The latest information will always be presented in your Dashboard.

If, for any reason, your wire bounces, it will be returned to your bank automatically. You can request a Wire Trace from your bank to see the current location of your wire.

Wires are not processed on weekends and holidays. Wires may take longer to clear due to issues between banks. We are not responsible for longer clearing times, and we cannot lock in a specific Bitcoin price before your wire clears.
We will report the timestamp and market price on your Dashboard, available via your CSV Download button. There is a 0.99% fee that comes out of the wire upon settlement. We do not charge you fees for trading.
E

nable

Two-Factor Authentication

(2FA) from your dashboard for higher security, in order to withdraw Bitcoin to your own custody.

Please note that, with some brokerages such as Fidelity, you will need to first send cash from your brokerage account to your bank and then purchase Bitcoin with cash from your bank or move cash from your bank to your Swan bank account with Prime Trust and then purchase Bitcoin from your Swan bank account.