To take full advan­tage of the unique proper­ties of Bitcoin as money you need to hold your own private keys. As Bitcoiners say, "Not your keys, not your Bitcoin." It is empow­ering to be able to hold your bitcoin in your custody so that it cannot be seized or confis­cated by banks or the hackers that target them. But choosing to hold your own keys does come with the respon­si­bility for the security of your Bitcoin.
When you are ready to set up your Bitcoin wallet you can start with this article we've prepared to get you started, and then check out Jameson Lopp's excellent recommendations.
To set up a wallet on the Swan dashboard, follow the steps outlined below...
Bitcoin operates on its own independent monetary network. So Bitcoin withdrawals will not return funds to your bank account. Instead, it will send it from our platform to your own Bitcoin wallet. First, acquire a Bitcoin wallet. If you need suggestions for your first wallet, read here.
Once you have two-factor authentication set up, you can manually withdraw Bitcoin to your own wallet anytime. To create a withdrawal go to your Swan dashboard and scroll down to the withdrawal section. Click the "Withdraw Now" at which point you'll see this popup.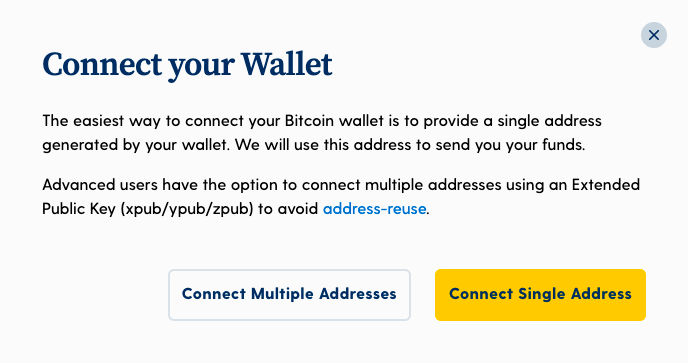 Select "Connect Single Address" unless you are an advanced user. Then you'll see this page where you can enter your wallet information. That wallet address should be given by your own Bitcoin wallet when you press a button that says something like "Receive Bitcoin" or "Deposit Bitcoin."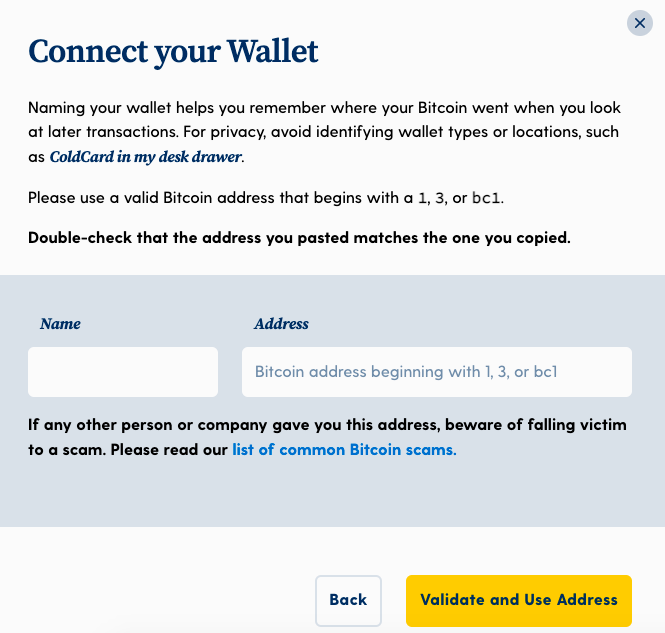 Once you have added that wallet address to Swan's interface, you'll need to confirm it via the 6-digit code generated by your authenticator app on your phone.
Finally, you can go back to the home screen and initiate a new withdrawal. You can select the amount of Bitcoin to withdraw as well as the address that you previously saved.