Swan's bank requires a 10 business day hold on all deposits in order to mitigate the risk of users reversing their transactions. Unfortunately, due to bank rules, we cannot reduce the waiting time, even if you are an established customer.
On the plus side, eliminating fraud through this conservative approach means we can offer you very low rates on automated Bitcoin purchases. Additionally, once your first ACH deposit clears you'll be buying Bitcoin according to your plan settings: weekly, monthly, or every paycheck. When you end your plan, you'll have one last purchase to complete.
After your first ACH clears, you won't notice the holds at all and will be purchasing regularly, with funds that have already cleared.
When will my ACH deposit complete and convert to Bitcoin?
Please watch your dashboard for the following statuses.
ACH In Progress - We have initiated an ACH withdrawal from your bank. It is expected to clear into our bank within 1-2 business days, excluding holidays and weekends, as the ACH system does not work during those times. ACH transfers submitted after 3pm PST will take two business days to transfer, while those submitted before 3pm PST will usually take one, but sometimes up to two business days. For example, funds submitted after 3pm on Friday will take until the following Tuesday to clear.


ACH On Hold [until date] - The ACH deposit has cleared into our bank and is now on a bank-issued mandatory 10 business day hold for fraud. The date indicated is the day your funds will be released. Bitcoin will be purchased on the first business day following the release date. Your Bitcoin will be bought at the price on the day of the purchase (not the day of the withdrawal from your bank).
Here's an example of what it will look like on your dashboard. The two waiting periods above create a total of roughly two weeks holding time per deposit.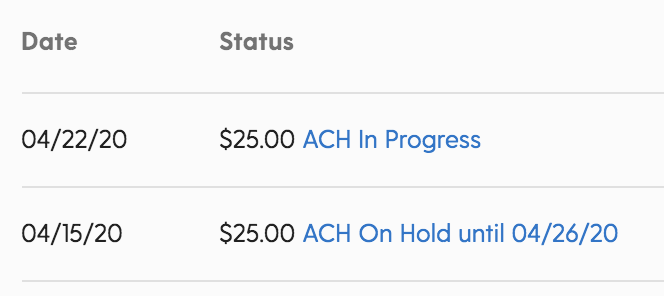 Why is there a hold on my funds?
When your money is pulled via ACH from your bank account, there is a dispute window during which people may claw back the funds. In order to prevent ACH fraud, whereby a user deposits funds into Swan, buys Bitcoin, and then reports the ACH withdrawal as fraudulent, our bank places a 10-15 day hold on all deposits prior to the Bitcoin purchase.
After activating your Swan savings plan, we will withdraw from your bank account on the first business day following your identity verification approval. This starts the 10 business day holding period. On the next business day after your ACH deposit is released from the fraud hold, your Bitcoin will be purchased.
ACH withdrawals will continue on a regular basis, based on what you defined in your plan (weekly, twice a month, or monthly). Bitcoin is always purchased with ACH funds that have already been released from the hold. The hold is applied to every deposit, and we cannot make an exception even for established customers, due to our bank's policy.
Swan does not have access or legal license to touch your USD funds. Swan does not and cannot use your USD funds for business operations. Nor does our custodial partner, Prime Trust, as a licensed and regulated trust company. Your USD funds are held for fraud prevention purposes only.