An IRA transfer is the transfer of funds from an IRA into another IRA. All transfers into the Swan IRA must be in the form of USD cash or cash equivalents (Money Market Fund). We strongly recommend that you transition your investments to USD or cash equivalents cash prior to initiating the transfer request.
To initiate a transfer, select "Transfer" from the navigation bar, and then follow the instructions as shown below: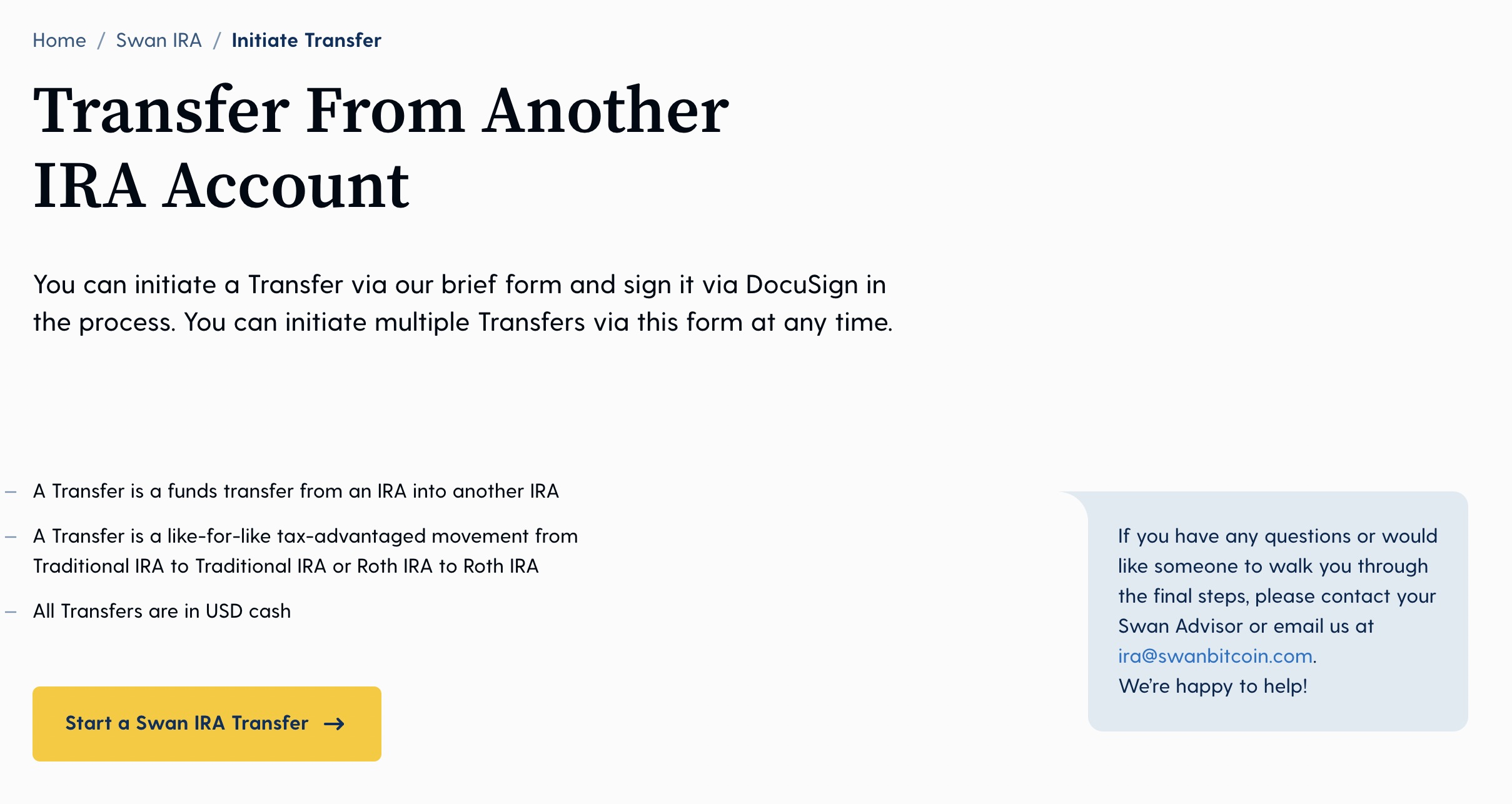 When clicking on "Start a Swan IRA Transfer", you will be prompted to select the transfer type.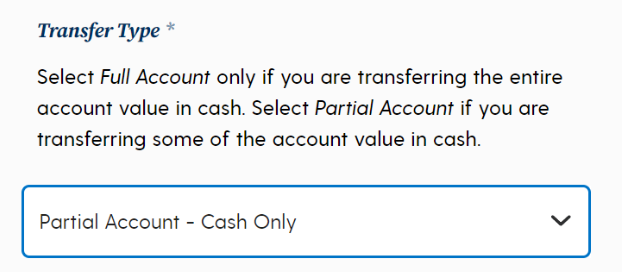 There are two types of transfers:
Partial Account: Select Partial Account if you are transferring some of your current IRA account value as cash.
Full Account: Select Full Account if you are liquidating all assets to transfer your entire IRA account balance as cash.
Once you have selected the transfer type, you need to choose your current IRA custodian in a dropdown list. If you can't find it in the list, click on "My current custodian is not listed" and add your custodian name and address manually.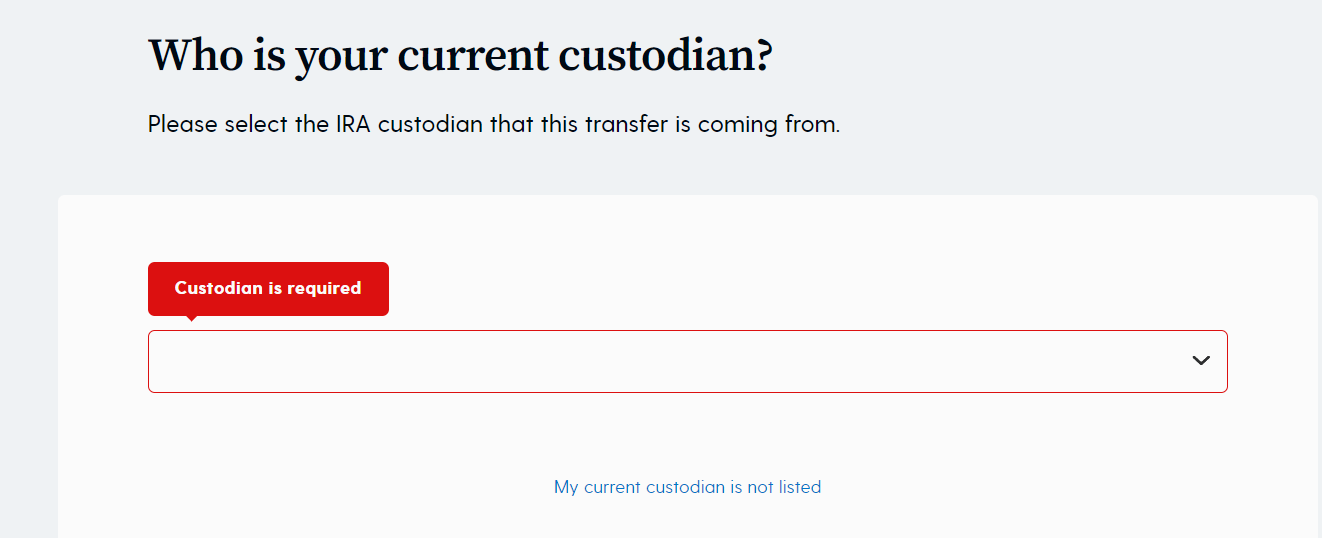 To complete your transfer request form, you will need to add the amount of cash you want to transfer and upload your most recent account statement. Please make sure to click on "Submit Transfer Request". You should see a screen confirming the transfer was completed like the one below:
Upon completion of the form, we will review your documentation and if all the information provided is correct, we will initiate the transfer request with your current custodian. Once the transfer has been initiated, you can stay up-to-date on the status of the transfer on your transfer page as shown below: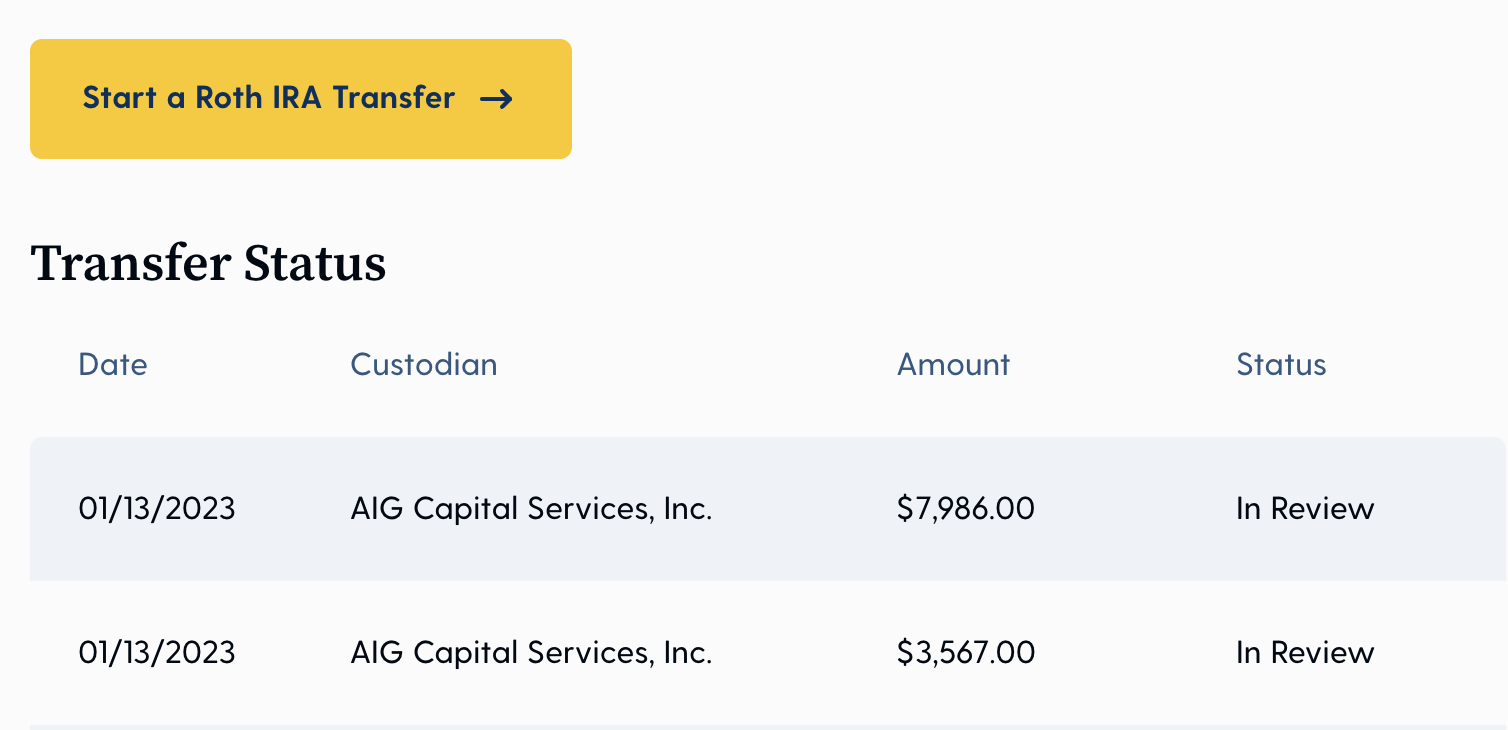 What is the transfer status?
- In Review: Our custodian is reviewing your documents/information. If we need any additional document/information, we will reach out via email.
- In Progress: Our custodian is working with your current custodian to transfer the funds now.
- Completed: We have received your funds. It takes 1-2 business days for the funds to be posted in your Swan IRA Account.
- Canceled: This happens when the information provided on the transfer form was incorrect. Please contact us at ira@swanbitcoin.com if you haven't been contacted already.
What is the cost of transferring funds into a Swan IRA?
The transaction fee is 0.99%, funded from IRA funds, per IRS regulations. This fee will be taken out when the funds are transferred over.
Once I receive my IRA funds, how do I purchase Bitcoin?
After you complete a rollover or transfer, you'll have USD sitting inside your Swan IRA. Then from your Swan Dashboard, you can either (1) convert your USD into BTC instantly or (2) set up an automatic recurring plan (ex: $500/month) to convert your USD to BTC over time.

My current IRA custodian received the transfer request from Matrix/MG Trust. Who is Matrix/MG Trust?
If your current IRA custodian contacts you asking for confirmation to complete the transfer to Matrix/MG Trust, you can confirm. We use Matrix/MG Trust as a service provider to handle the IRA transfer request.

If you have any questions, you can contact us at ira@swanbitcoin.com.